Boca Raton & Palm  Beach Upholstery Cleaning
"PSR came through and saved the day! They did a pet cleaning on the couch. We are so so happy with their work!!! I will absolutely be going to them with all my carpet and upholstery needs moving forward."
Rose R.
Get a Free Quote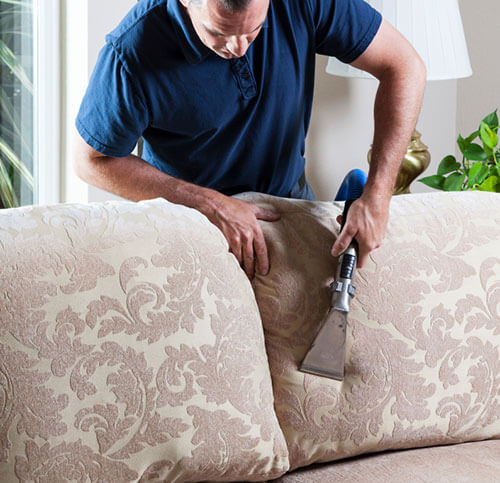 PROFESSIONAL Upholstery CLEANing IN Boca & Palm Beach
There are times when you look at your furniture and think it looks a little tired, or even terrible, or that it is time for something new.  And yet, very often, you just have to clean it.  The difference between a clean sofa and a dirty sofa is extraordinary yet often when you live with a dirty sofa, you don't notice the dirt! 
Dirt on upholstery creeps up.  Because we don't clean our furniture all the time, the dust, the stains and the dog hair all slowly 'add up.'  You can look at your furniture daily without realising that it needs a clean.  Yet when you do clean it, the results can be astonishing because suddenly your upholstery looks new!  Or as good as new.
We do recommend that you have your upholstery cleaned by professionals.  It is important that you do not damage the upholstery during the cleaning process and you do want to have it cleaned properly.  Professional upholstery cleaners will use the right cleaning materials for the fabrics of your furniture and will also be able to reach all those corners that you have forgotten about.  A professional upholstery cleaner will treat your furniture with great care.  They want a great result as much as you do. 
Steam cleaning your upholstery is the most effective way to clean.  Steam cleaning means you get excellent results without damaging anything.  Steam cleaning can get rid of all those old stains and marks, and removes all the dust and grime.
Newly cleaned upholstery furniture looks fantastic.  Try and think back to the last time you had your furniture cleaned?  It is an interesting exercise because most people do not clean their upholstery often enough.  It may feel like you did it six months ago but it is probably six years ago!
Has your been furniture cleaned professionally?  It will save you a fortune in a new lounge suite, or dining room chairs, and your things will genuinely look as good as new.  The dullness of a dirty sofa disappears quickly after cleaning. Your furniture will look bright, fabulous, glamorous and new.  It makes all the difference to a room when furniture is clean. 
You do want to make sure that you use a professional upholstery cleaning company and that the technicians are well versed and know what they are doing.  You want to use a cleaning company that has excellent references and reviews too.  And you want a company that will go out of their way to clean every single part of the furniture,
If you clean your furniture regularly, the life span is extended of the furniture too.  Take a look at your sofa now.  If it looks good, then no problem.  If it is looking a little tired, think about having it cleaned.   PSR are professional upholstery cleaners in the Palm Beach area.  The have an excellent track record and will tell you exactly what needs to be done.
Satisfaction Proven!
Ask Our customers
"I had my furniture cleaned and carpets done.  The technician was very courteous and helpful.  He rightfully suggested I have two pieces shampoo-cleaned instead of washed for fear of residual watermarks – and they turned out beautifully.  I'm very happy with the carpets and the couch as well.  I gave them extra time to dry.  I really appreciated the precautions and care he gave to my home.  I will definitely be calling them again.".
Terri N.
"Mike is the best Cleaning technician.. I've tried four other companies before.. this company PSR and Mike I have found to be the best at the cleaning my upholstery. The sectional couch looks brand new"
Robin W. 
"What a fantastic customer experience!  They came right on time, sized up the job quickly, gave me some choices, priced the work, and finished everything within an hour"
Mo A.
Get in Touch
contact@psr-fl.com
Open Hours
8am – 6pm Everyday
Our Office
223 E Flagler St,
Unit 306A
Miami, FL 33131
Check out also our carpet cleaning services in: