Area Rug Cleaning
"Very professional polite employees. Prompt service. I had 9 large area rugs that was cleaned beautifully. Very reasonable pricing. I would definitely use this company again."
Carol S.
Get a Free Quote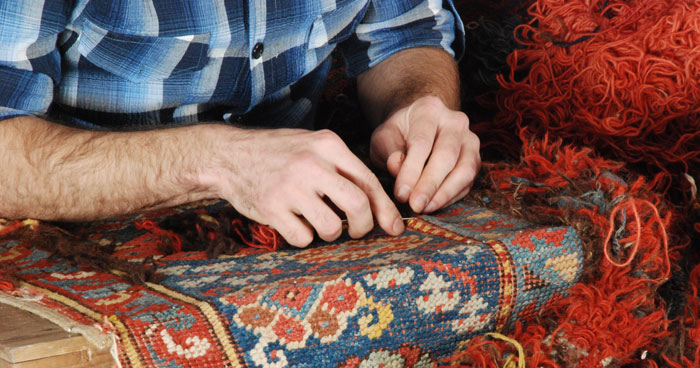 Oriental rugs, also known as Persian rugs, are an excellent investment and should be treated as such.  Your oriental rug may have been handed down to you from a parent or a grandparent, perhaps you bought it an auction, or you have been smart and invested wisely.
Oriental rugs are magnificent and add style to any living area, home or office.  If you own an oriental rug, it is important that you look after it well.
This doesn't mean that your oriental rug should not be walked on. It is the exact opposite.  You can put an oriental rug in a high traffic area without any problem at all.  Oriental rugs are perfectly made and designed, and are luxury rugs of the highest quality.  You can put things on top of them, walk on them, lie on them, let the kids play on them and the dogs laze around on them.
But you must clean an oriental rug or carpet properly.  You do not want to be on your hands and knees, scrubbing your rug with a shampoo filled with chemicals, and ultimately ruining it, ruining the fibers and the silk, and making the carpet age before its time.  You do not want to use a scrubbing brush that will ruin the entire carpet.  You do not want to damage an oriental rug.
When you clean the rug, you really should have it done by a carpet company who understand oriental rugs.  Oriental rugs need to be cleaned using deep cleaning methods that only professional carpet cleaners use, and they need to be cleaned gently.   You want somebody that will come to your home, or office, and look after your oriental rug for you.  A good professional carpet cleaner knows the difference between the various types of rugs, which fabrics or materials have been used in the rug – an oriental rug is usually made of a mix of silk, wool and cotton – and knows how to take care of these materials.
It is up to you how often you clean your oriental rug and a lot of this will depend on how much your rug is used, how many people walk on it daily, if you have animals or children, or if it is in an area that collects dust easily.  An oriental rug should be kept clean for a number of reasons. The first would be general hygiene.  Then you keep an oriental carpet clean so it maintains its beauty and style.  You want to keep your carpet clean so that it does not collect dust.  You want to keep it clean so it looks good!  And you want to keep it clean so that it feels good too.
We honestly don't think you should attempt cleaning your oriental rugs or carpets on your own.  It is just too risky.  Rather have them cleaned by people who understand and love carpets.  Use a carpet cleaner that is professional, efficient and have a good reputation.
PSR are professional carpet cleaners in the Miami area.  They will give you a quote, explain their methods and answer any questions that you may have about your oriental carpets.  PSR will clean any kind of carpet and clean and refresh your upholstery and tiles too.
We Serve the Entire South Florida
From Miami to Palm Beach we offer all our services to our south Florida customers
CARPET CLEANING SERVICE NEAR YOU
Satisfaction Proven!
Ask Our customers
"PSR was such a blessing! I called late one evening and they were out to clean my carpets by the very next morning! Amazing service and my carpets look like new. I have a new puppy and I thought they were on the way to being too far gone. They worked a miracle for me!". Rayne Mason
"This was my first time trying out the company and the service was awesome. They were super professional and the person Steve who did my apartment was super fast and very helpful when it came to understanding what type of carpet cleaning I needed" Barbara stanely
"Great service! In fact the best cleaning we have had. We have two dogs, I was worried about the pet odor, I cannot smell it after the cleaning. Highly recommend!" Fred Ratner
Get in Touch
contact@psr-fl.com
Open Hours
8am – 6pm Everyday
Our Office
223 E Flagler St, Unit 306A Miami, FL 33131
Check out also our carpet cleaning services in: